9 Essential Meal Planning Tips
Knowing how to meal plan can save you time each week. Here are our best tips.
By:
Kristin Anderson, Editor, CheapThriftyLiving.com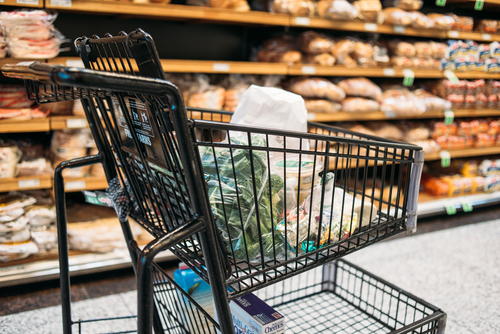 Meal planning.

Do those two words make you want to jump for joy? Or run and hide?

We can understand both reactions! Planning out your weekly menu can save you a lot of time, but it can also be daunting to start.

We're here to move you into the "jumping for joy" category, with some essential meal planning tips that anyone can use. They're also not boring, so you can actually look forward to your food all week long! Try these menu planning ideas this week, and we're sure that you'll feel a little less stressed about getting dinner on the table.
First, what is meal planning?
Before we get started: What is meal planning, anyway? You might think that it has to be this labor-intensive process of planning all your meals for a month, labeling freezer bags, cooking for 4 hours on Sunday....

Not at all! If you want to do those things - and they work for you - then that's great. Keep going! But if that seems like way too much work for you, then don't do it.

Meal planning is any kind of system you use to plan ahead for your dinners, lunches, or breakfasts. Some people only plan a day (or less!) in advance, and that's totally fine. These meal planning tips are designed to help you put together a plan that works for you and your life.

Start by asking yourself, "When do I feel frustrated because I don't have something I want to eat?" Target those areas with your new meal plan, and don't worry about an elaborate system of labels and freezer bags if that's not your thing.

Now let's talk about how to meal plan like a pro!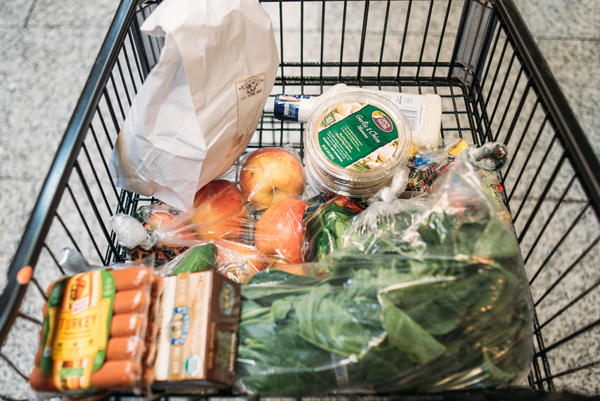 Meal Planning Tips: Organization
Pick a place to write down your weekly menu.
It's hard to have a plan if it's not written down somewhere. We love using these meal planning templates. You can print off a new one every week and fill it with all your favorite dinner ideas.

You can also use a dry erase board or chalk board. Going digital? Make entries in your email calendar! No matter what you choose, put the plan in a place where you and your family can easily see and access it.

Keep your favorite recipes handy.
Picking meals can be daunting if you think you have to search the whole internet for each recipe. There's a better way! When you find a recipe that you really like, store it away to use again later. At my house, that means printing out recipes and putting them in a recipe binder. For you, it might mean bookmarking it on your phone or adding it to a linked list on your computer. When it's time to pick your meals for the coming week, simply open up your list of recipes that you know you love and start planning.

Download your free printable meal planner here!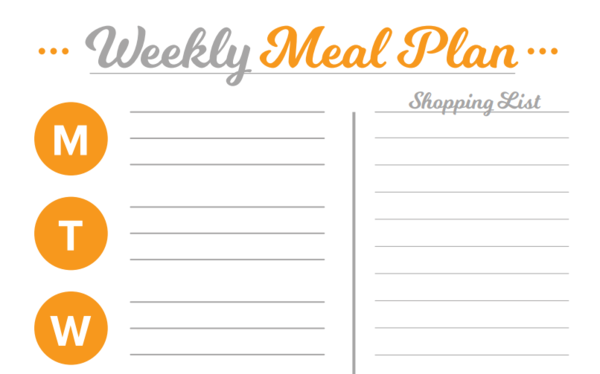 Menu Planning Tips: How to Pick Your Meals
Ask your family what they like to eat.
Don't feel like you have to come up with 7 meals every week all on your own. Ask your partner or kids what they'd like to eat during the week and add their suggestions to the list. If everyone is craving something, then your weekly menu planning will be done in no time.

Try theme nights.
Having theme nights can make choosing meals much easier. It narrows the possible choices for food, making things more manageable. Here are a few of our favorite meal planning themes: Mexican, Chinese, Italian, etc. nights; soup and sandwich night; breakfast for dinner night; pizza night; Meatless Monday; new recipe night; slow cooker recipe night; pasta night. Another one we love is "on your own" night. If everyone in your family can get food for themselves, then plan a night when everyone is free to do their own thing.

Don't cook every night.
Meal planning doesn't mean you have to cook every meal. Plan for a night out, if you want. Or plan for a leftover night. Take it easy on yourself and do what works for you.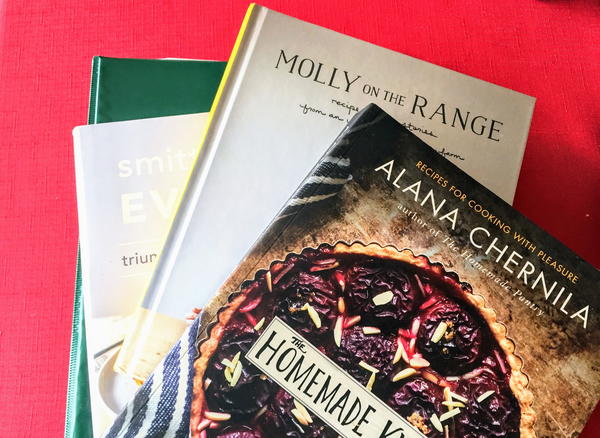 Plan Your Grocery Store Trips
Making strategic trips to the grocery store is one of the biggest perks of meal planning. You can save time and money by planning your trips in advance!

We like to take this approach to the grocery shopping portion of meal planning.
Decide what meals you want to eat for the next few days or week (or however far you like to plan ahead). Include breakfast, lunch, dinner, and any snacks that you need to buy groceries for.
Make a grocery list of everything you need to make those meals. Check your fridge and pantry to make sure you have enough cooking oil, spices, condiments, and other extras you'll need.
Grocery shop!
This method ensures that you'll have all of the ingredients you need to cook all of your meals. Checking your pantry and fridge to see what you already have is so important. It's so frustrating to realize that you're out of something just when you're about to start cooking (or to see that you bought something when you actually already had it!).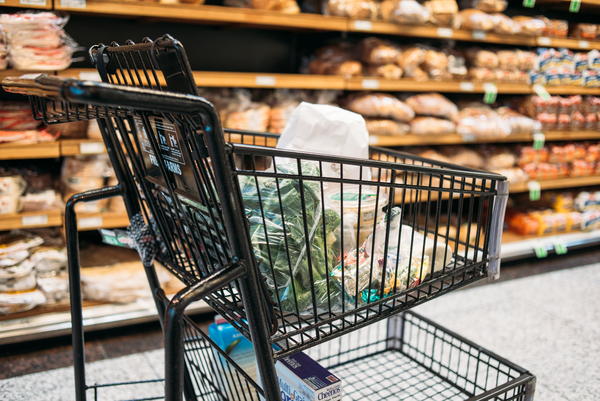 Meal Prep Tips
Once you've made your trip to the grocery store, you can start prepping your meals for the week! Doing a little bit of work on the weekend can save you a lot of time during the busy week. If you like to plan even further ahead, then you can also use meal prep time to make freezer meals for the weeks to come. Try some of these meal prep tips.

Wash your fruits and vegetables.
This simple meal prep idea can save you time all week long. Wash your fruits and vegetables as soon as you come home from the grocery store, and you'll save yourself time all week long.

Cook your proteins and grains.
Cooking up ground beef, chicken, beans, and more on the weekend can save you time on weeknights. Simply cook your protein in the way that you normally would, then let it cool a bit and store it in a container in the refrigerator. Four days is the maximum recommended time for food safety when it comes to pre-cooked food. So if you cook on Sunday, you can eat everything through Thursday.

The same thing goes for grains! Make a big pot of rice or quinoa and then enjoy it all week with lunches and dinners.

Make your lunches ahead.
If you pack lunches every day, you know it can be hard to throw something satisfying together in the morning. Instead, make something yummy on Sunday that you can enjoy all week. Make sandwiches, make a sheet pan meal that you can package up in lunch-sized portions, or pack bento box-style lunches of fresh veggies, a protein, and a dessert.

You can also plan to take leftovers some days for lunch. That will help break up the week, especially if you've cooked a big meal that you plan to eat all week for lunch. If you don't eat a meal that you made before the 4 days are up, write the date on it and put it in the freezer for another week!
What are your best meal planning tips? Let us know in the comments below!
Free projects, giveaways, exclusive partner offers, and more straight to your inbox!
Your Recently Viewed Projects
Images from other crafters


Something worth saving?
SAVE all your favorite stuff
ADD personal notes
QUICKLY reference your stuff