8 Best Cashback Sites and How They Compare to Each Other
Comparing 8 of the most popular options to earn cashback
While they may seem different, most cashback sites are very similar in regards to percentages, rewards, and additional services. Finding the best cashback websites for you relies on how much you shop online. The biggest factor to consider is the minimum withdrawal amount. If you don't shop online frequently, you should choose a site with a very low minimum. While you may not benefit from additional services, you will always have money coming back to you at the end of the shopping period instead of giving all of your earned cash to the site you're using.

Below, the eight most popular sites are compared and the different factors among them are detailed. If you're looking for the best cashback websites, check out the infographic at the bottom of the page for side-by-side comparisons of the top sites. These personal finance tips will help you choose the best cashback site so you can start earning additional money.
Top Cashback Sites
There are many popular options for earning cashback online and in the store. Below are the 8 that were found to be most popular among consumers and business websites.
Below the sites are compared to see how they stack up against one another.
Are the Sites THAT Different?
Contrary to what they want you to believe, most of the top cashback sites are pretty similar. Sites generally try to trick consumers by showing amazing rates on their homepages. If you ever see the words "up to" and then a specific percentage on a cashback website, it's probably too good to be true. Most retailers will have a flat rate among the cashback sites, so shopping on Amazon will yield you 5% on any cashback site. The "up to X%" you see on a website is probably for a specific retailer that already has a special promotion that week. You can expect cashback rates between 2-6% for large online retailers.
How Do the Sites Differ?
If all of the retailers pay the same percentage, does it matter which site you pick? The short answer (as usual) is yes.

The main eight cashback sites have a few key difference categories to consider:
The minimum amount to withdraw cashback.
How you can withdraw cashback.
The site's sign-up bonus.
Other exclusives for that site.
1. The Minimum Amount
All 8 popular cashback sites have a minimum amount that you must earn before you can withdraw your funds. This amount ranges from $3 to $25. This is the biggest way consumers get confused by cashback sites. On most of these popular sites, you won't start earning real money until you spend approximately $500 at online retailers. Many of the sites also include fine print of how many days you have to rack up this amount of cashback. If you don't spend hundreds of dollars a month online, avoid the sites that have a higher minimum (even if they have some better options elsewhere) because you'll never see a penny of your cashback savings.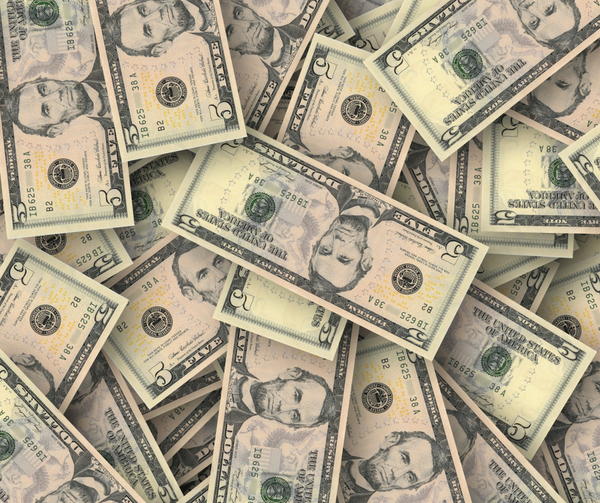 2. Ways to Withdraw
Each site has different ways for you to withdraw your cashback. Some sites offer checks that will be mailed to you, others will offer direct deposit or PayPal deposits, and others will send you gift cards, whether physical or digital. Most of the sites offer at least two ways to receive your cashback so you have access to the option that works best for you. Make note of how long a site will take to deposit your cash as well; some will deposit next business day, while others may wait weeks to send your cash.
3. The Sign-Up Bonus
The sign-up bonus is used by cashback sites to make you choose their specific site. Sites will offer extraordinary deals like a free $10 bonus just by entering your email address. You may think signing up for every site will give you some free money and then you can pick the site that works the best, but sadly, you'd be mistaken. Most of these "bonuses" have fine print that requires you to spend copious amounts of money online in a short amount of time to receive the reward. If you do qualify for the sign-up bonus, you'll be ecstatic when your first payment arrives, but then you'll realize without the bonus, it will be nearly impossible to meet the minimum withdrawal amount, and you may never receive another cashback payment.
4. Additional Revenue
A lot of the top cashback sites will offer additional incentives if you use their services. These revenue streams can include watching videos and taking surveys for additional "points." These appear to make up for the high thresholds to withdraw your cash, but the minimal amount you earn from these additional methods probably won't help that much.

Some sites offer coupons for both online and in-store use. These are good ways to assemble savings but are coupons you could access on your own from sites like RetailMeNot or Groupon.
Cashback Site Tips
To ensure you earn all the cashback you can while shopping online, try these tips.
Stay logged in to your cashback account.
Only have one cashback account at a time.
Complete your purchase at one time.
Use qualifying payment methods.
Enable cookies on your home computer.
Don't return purchased items.
Cashback Sites Comparison Chart
This comparison chart gives a quick summary of the 8 most popular cashback sites. You can download the pdf and print it for your convenience!

Download the pdf here!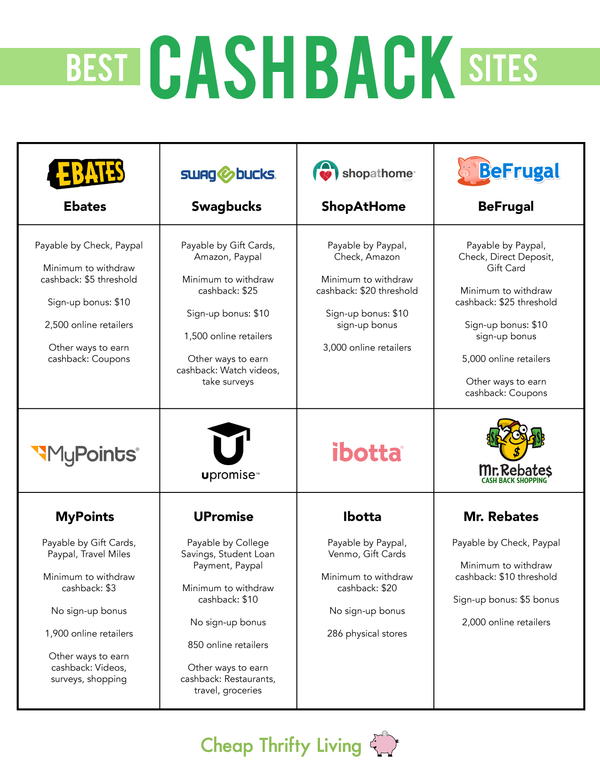 Which cashback site do you use? Let us know in the comments!
Free projects, giveaways, exclusive partner offers, and more straight to your inbox!
Tags / Related Topics
Your Recently Viewed Projects
Images from other crafters


Something worth saving?
SAVE all your favorite stuff
ADD personal notes
QUICKLY reference your stuff