How to Recycle Batteries
Learn how to recycle various types of batteries and leave the landfill alone.
Do you have a collection of batteries and electronics of which you need to recycle? This guide will teach you how to recycle batteries depending on the type. Various types of batteries have different recycling limitations and, contrary to popular belief, some can even be disposed of in your regular trash. You'll learn how to dispose of batteries in the most cost-effective and environmentally-friendly ways.

Are you curious where you can go to recycle these batteries? Each type of battery has a few options that you can choose based on convenience. Most of the options are free, but some require a minimal fee for battery and electronic recycling. Many cities also hold recycling drives where the cost will be waved to encourage citizens to live sustainably in their daily lives.

Follow this guide to living green and promote recycling in your daily life!
Single Use Batteries
The type of battery you most likely have lying around is the single use battery. You probably recognize these batteries as AA, AAA, C, D, or 9-Volt. You'll find these batteries in all kinds of consumer electronics and the size and shape will vary.

Here are some answers to the burning questions of single use batteries:

Isn't it illegal to throw batteries away?
-Nope! Unless you live in California, it is perfectly legal and safe to throw batteries into your garbage as long as they are not damaged or leaking acid. It was once illegal to dispose of batteries in your weekly trash, but the environmentally harmful materials (mercury, lead, and nickel) were taken out of battery production.

Can you recycle single use batteries?
-Yes! Of course you can.

Where can you recycle single use batteries?
-There are a few options to recycle single use batteries. Many communities will have recycling drives to promote recycling materials. A list of these drives can be found at Earth911. You can also arrange to have your batteries recycled by mail at BatterySolutions. Both of these options will cost a small fee as it is difficult to process single use batteries.

What do you do with damaged batteries?
-Damaged batteries are considered a hazardous waste material. They can not be recycled or thrown in the trash. Contact Call2Recycle for more information on where to take damaged batteries.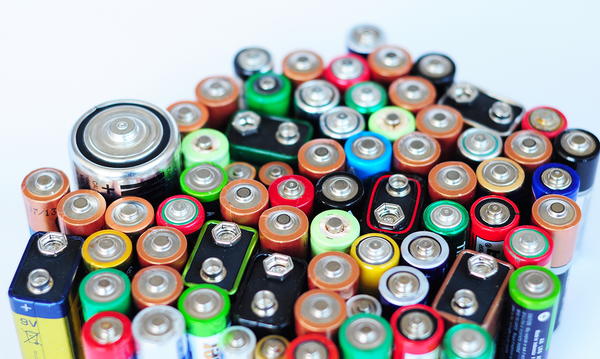 Rechargeable Batteries
Rechargeable batteries are found in consumer electronics that need to be charged regularly. These items include bluetooth speakers, smart watches, and laptops. While some AA and AAA batteries can be rechargeable, this section refers only to lithium batteries.

Can you throw away rechargeable batteries?
-No! Rechargeable batteries are considered an environmental hazard and cannot be thrown away with your normal trash.

Can you recycle rechargeable batteries?
-Yes! Rechargeable batteries are some of the easiest for you to recycle because many recycling centers and drives will take them without a charge.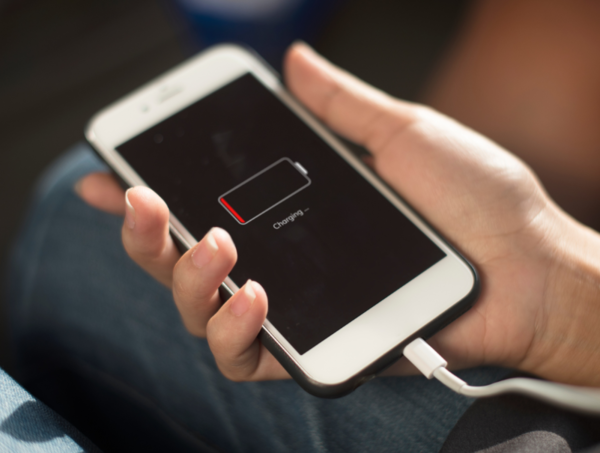 Cell Phone Batteries
Do you have an old cell phone or two collecting dust in your house? It's time to recycle these old phones! It's easy to find a location to recycle a cell phone, and it shouldn't cost you a cent. Like rechargeable batteries, cell phones can't be thrown away, but they can be recycled. Most home improvement stores will have kiosks to deposit old phones and many cell phone stores will recycle your old cellular for free if you're a customer.

Remember to wipe your personal info from the phone or remove the SIM card before recycling your cell phone!
 
Looking for more household items to recycle? We can show you how to recycle K-Cups, and we even have some options for upcycling these little plastic pods into craft projects! How to Recycle K-Cups
Car Batteries
Most mechanics and auto parts stores will automatically recycle your old car battery for you when you purchase a new one. Car batteries are the most widely recycled battery with nearly 97% of old car batteries being recycled annually. If you do have an old car battery lying around, take it to a local auto parts store, and they should take it offf your hands free of charge.
Recycling Batteries Reference Chart
This reference chart gives a quick summary on if you can recycle or dispose of different types of batteries. You can download the pdf and print it for your recycling convenience!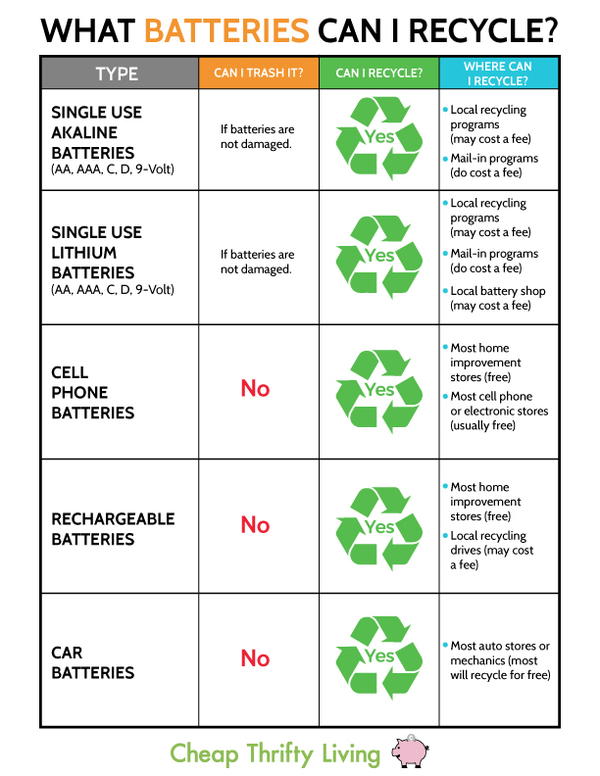 Where do you go to recycle your old batteries and electronics? Let us know in the comments!
Free projects, giveaways, exclusive partner offers, and more straight to your inbox!
Tags / Related Topics
Your Recently Viewed Projects

Something worth saving?
SAVE all your favorite stuff
ADD personal notes
QUICKLY reference your stuff