How to Start Couponing
With this guide on couponing for beginners at your side, saving money when shopping will be a breeze!
By:
Megan Horst-Hatch, Editor, CheapThriftyLiving.com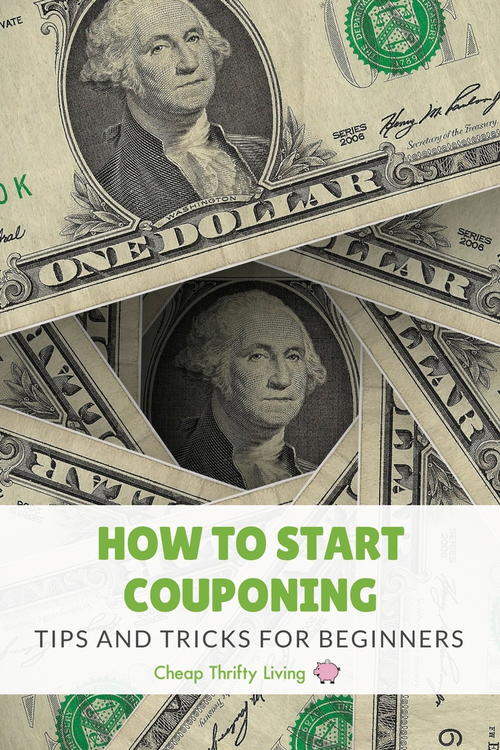 Saving money has never been easier with the use of coupons! Whether you're looking for the perfect deal at your favorite restaurant or just want to save some money when shopping for groceries, using coupons is an effective way to cut costs.

From finding the right places to get coupons to organizational hacks, these tips on the basics of couponing are simply too good to miss! Even if you're a seasoned couponer, this guide to how to start couponing might be a nice refresher, too. We also have gathered a list of fun couponing websites, and what couponer can turn down more coupons?

Saving money through the use of coupons can be a fun and rewarding experience, too. By saving money at the checkout counter when purchasing groceries, clothing, and other essential items, you can get closer to reaching your personal finance goals. Learning how to start couponing doesn't have to be a difficult or time-consuming endeavor when you keep these ideas at your fingertips.
Assess your household's needs
Will your family really use a certain brand of pasta sauce or gobble up a particular type of cereal? Although using coupons will help you save money, your savings efforts will be all for naught if the coupons are for items your household will not eat. We recommend taking a balanced approach to clipping coupons.

"I don't want to spend too much time searching through flyers or driving to multiple stores, just to save a few cents. Instead, I try to build my weekly meal plan based on the sale items at my local grocery store, while also taking advantage of the store-specific coupons that are printed at the register. That way I know that the coupons will apply to the store where I shop, they are usually for products that I already purchase, and there's no wasted time in clipping, hunting, or driving to track down the best deal."
-Blair Lonergan, The Seasoned Mom

In addition, coupons are for more than just groceries; NCH Marketing Services estimates that more than 70 percent of all consumer packaged goods coupons in 2017 were for "non-food categories."
Learn the parts of a coupon
Do you know where to find a coupon's expiration date, or how to tell if the coupon can be doubled? If you want to make the most of your coupons – and save some serious cash in the process – then you'll want to keep this infographic in mind. You'll be saving like a pro in no time when you use the infographic above!
Retailer Coupon: This may be labeled as "Manufacturer Coupon," or with the specific name of the retailer. This lets you know who will honor the coupon.

Expiration Date: When does this coupon expire, anyway? The expiration date is a crucial bit of information you need to keep in mind when clipping coupons. Although some retailers may honor expired coupons, it could be on a case-by-case basis.

Value of the Coupon: The specific product that is eligible for the coupon, as well as the dollar value of the coupon, is included here. In addition, the quantity or size of the product that you need to purchase in order to receive the discount from the coupon is included. In our example above, only the 16-ounce smoothies are eligible for the discount.

Fine Print: The manufacturer or retailer includes any rules or restrictions regarding the coupon, including where the coupon is eligible. For example, a chain restaurant may specify that the discount is available only in locations within a certain metro area. Additional restrictions will also be included in the fine print.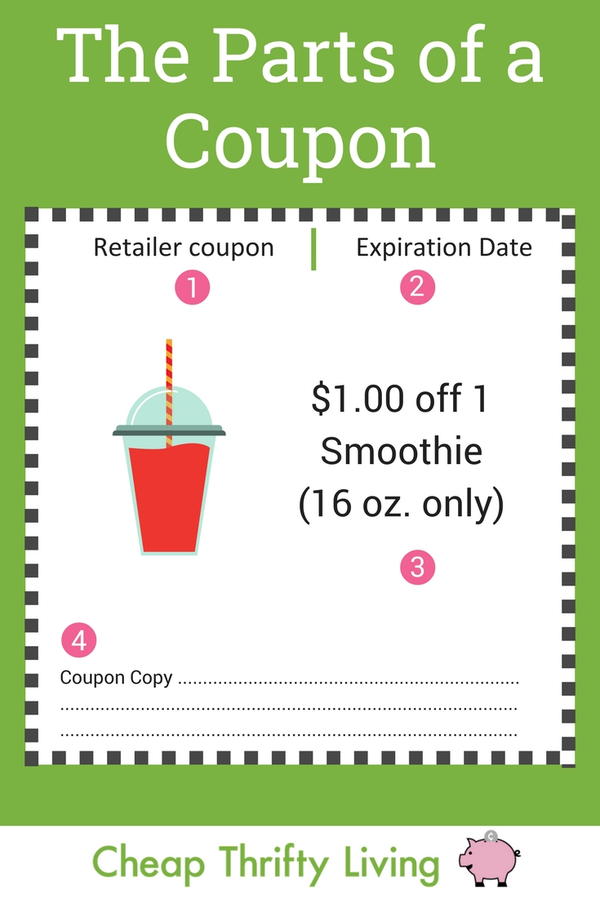 Learn the store's coupon policies before shopping
Some retailers will accept coupons after the expiration date and may even allow you to double the face value of the coupon on certain days of the week, allowing you to save even more money. Some retailers may also accept coupons from competitors. It's all a matter of knowing the policy so you know what to expect.

Many retailers include policies for accepting coupons on their websites. This is especially helpful if you plan to make use of coupons that encourage you to double the value of the discounted product.
Learn how to organize coupons
One thing is certain when it comes to coupons. You'll need a system in place so that you can quickly and easily find coupons prior to your next shopping trip. You don't want to miss out on a great deal simply because the relevant coupon was misplaced or lost. Consider implementing one of these coupon organization methods to get started when collecting coupons.
Envelope system: If you tend to shop at multiple businesses and service providers throughout the week, then an envelope system is a streamlined and no-fuss approach to keeping your coupons organized. Label each envelope with the name of the retailer, then place the relevant coupons inside the envelope. Don't forget to bring your envelope with you before you shop! If you'd like to make your envelopes durable, then this project on the Reusable Coupon Envelope is just what you need.

Binder system: Finding just the right coupon that you need and when you need it will help you save both time and money. If you have a stack of paper coupons, then place the coupons in sheets with individual pockets, such as those used for baseball card collections. Use dividers to separate the coupons by retailers or by product category. For example, the coupons for makeup could be placed in one section, while the cleaning supply coupons are placed in another section.

Coupon clutch: Add a bit of style to your coupon collection when you make a coupon clutch with scrap fabric! If you sew or quilt, then this tutorial for the Shopping List and Coupon Holder will be a quick project that you can whip up in very little time. The fabric clutch also makes it easy to tote just the coupons you need when shopping at a particular store. You don't need to lug your entire collection of coupons when you're on the go!

Spreadsheet system: Using a holder to stash your paper coupons will help you save money, but what do you with online coupons? Using a spreadsheet is an effective way to organize your online coupons so that you don't miss out on deals. You can even use your favorite spreadsheet to keep a running total of your savings just by using coupons!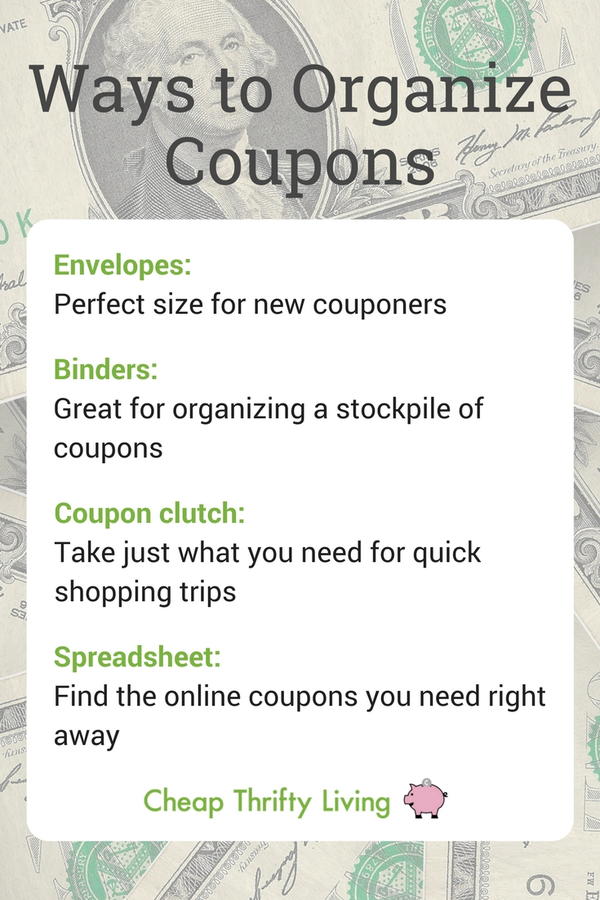 Find your coupons
If this is your foray into the world of clipping coupons, then you might be curious as to where you can find the coupons. Luckily there is almost no shortage of ways to have some coupons headed your way. Generally, they can be found inside grocery stores, in magazines or newspapers, on product packaging, in the mail, or on couponing websites. You might want to take a look at the following methods:
Local newspaper: The newspaper is typically filled with coupons to retailers, restaurants, and other service providers local to your area. Other sources for coupons include flyers from local businesses, online coupons posted on the websites of your favorite restaurant, or even online through dedicated coupon clubs. The subscription to the local newspaper will likely pay for itself with the use of coupons.

Local coupon clubs: Meeting fellow coupon-clippers can be a great way to discover new ways to clip coupons and to trade your coupons, too. The local clubs can also provide guidance regarding policies for retailers, as well as tips on how to maximize your savings. Schools in your area, as well as houses of worship, your public library, and other places in your community might host local coupon clubs. Consider taking your search online to sites like Meetup.com and Nextdoor.com, too, to find like-minded coupon savers in your neighborhood or town.

Coupon-focused websites: Similar to local coupon clubs, the online clubs can help you navigate the system while explaining the ins and outs of particular retailers' policies. The online coupon clubs are ideal for anyone who is pressed for time and cannot make in-person meetings. In addition, the online clubs may help you find coupons for more obscure brands or retailers. You just never know who else has the coupon you need! In addition to store-specific websites, you can find coupons on sites that include Grocery Coupon Network, Coupons.com, Mambo Sprouts, and The Krazy Coupon Lady.

Retailer apps: Does your favorite local grocery store chain have an app? If so, it is worth a look, as several grocery stores include access to coupons and in-store specials. If you shop frequently at a particular grocery store chain, then taking a look at the app might well be worth a look.

Contact your favorite brands: A final option is to contact the brands and companies that you use on a regular basis and see if they will give you coupons. Whether you send an email, reach out to the brands via social media, or even make a quick phone call, it's possible that you may receive a few coupons for products that you already use and enjoy.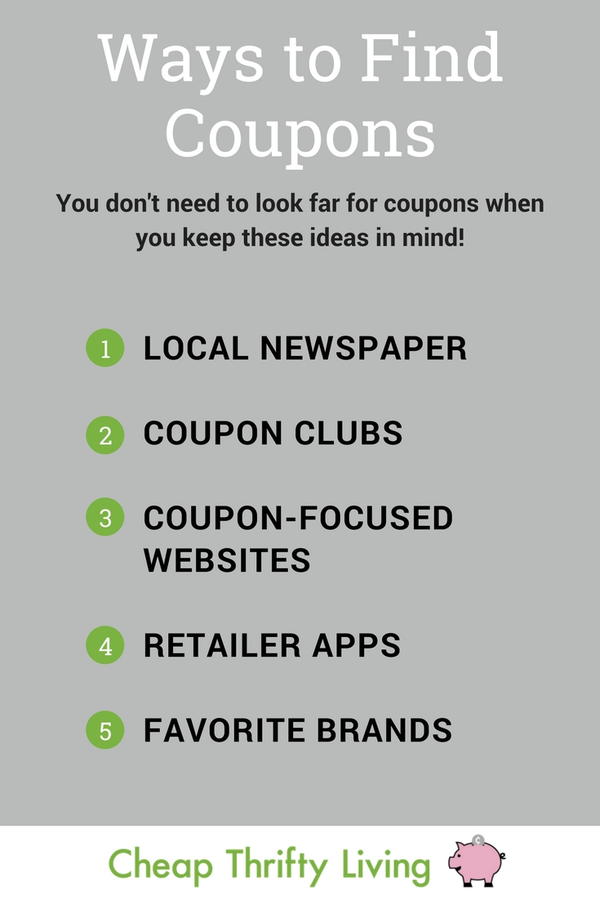 It's easy to save money when you use coupons! With these tips, you'll be able to set aside money for your other financial goals. Here is a list of commonly used websites for couponing:
Read each coupon carefully
Before you decide to use a coupon, make sure to read the small print. Oftentimes, the coupon specifies a certain product by size, quantity, brand, make, etc. By reading the small print and understanding the coupon's terms, you will be able to decide if it's actually a good deal. Also, notice the coupon's expiration date so you can use it before it expires, and it won't go to waste.
Subscribe to newspapers
If you're using 5-10 coupons each shopping trip, subscribing to a Sunday newspaper subscription might be a good idea – some clippers subscribe to more than one. If you use coupons often enough, the money you save will make up for what you pay for the subscription. If you do not use coupons very often, the cost of the subscription may not be worth it to you.
Some common couponing mistakes to avoid
Use caution when "extreme couponing"
If you find a coupon for an item that's a great deal, stocking up on that item can be a good idea. Some websites even label coupons with how much money they will save you – if they are listed as "stock up" or "5-star deal," it may be best to buy multiple of that product. These items most likely only go on sale with coupons every 3 to 6 months.

However, be mindful of your pantry storage space, and whether or not you will actually use the product before stocking up. Extreme couponing is great for items you use often, like toilet paper or canned vegetables, but not so great for seldom used items.

Be careful not to overspend
When it comes to couponing, it's most important to monitor your expenditures. Purchasing items you don't actually need could lead to spending more by trying to save. Couponing is most effective when you use them on products you would have purchased anyway. Start out slowly until you get the hang of how much you are spending and saving.

Some clippers keep a spreadsheet of their spending and saving. Compare your monthly grocery spending with coupons against a month without coupons to make sure you're clipping effectively.

What to do if the coupon doesn't scan
If it turns out that the coupon does not scan or if the item is not priced correctly, kindly ask to void the items. Unless you really need the item, you don't want to end up purchasing it full-price, and grocery store clerks are typically understanding.

All in all, couponing is a great way to save money on groceries if it's done effectively. After all, the more money you save on buying groceries, the more quick and easy recipes you can make!
What's your favorite tip for couponing for beginners?
Let us know in the comments below!
Free projects, giveaways, exclusive partner offers, and more straight to your inbox!
Tags / Related Topics
Your Recently Viewed Projects
Images from other crafters


Something worth saving?
SAVE all your favorite stuff
ADD personal notes
QUICKLY reference your stuff