18 Money Saving Hacks That Will Change Your Life
You can start saving consistently on monthly expenses with these money life hacks!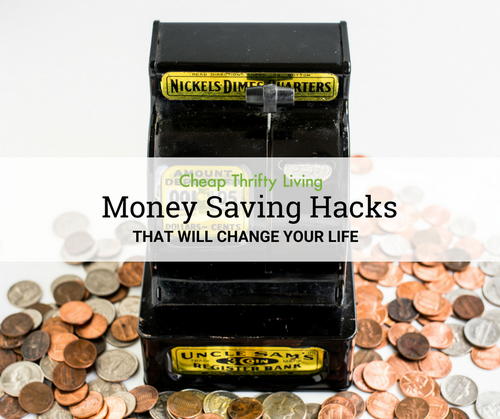 If you are looking for small steps that will alter your current spending, you've come to the right place! These money-saving hacks help you reduce spending to make the most of your money. Learn small steps that will consistently save you money on everything from online purchases to large expenses. Once you employ these saving strategies in your daily life, you won't be able to live without them. These life-changing money-saving tips will help you maintain your budget and plan for your financial future.

Try these tips today and see your savings start to stockpile! You can save hundreds of dollars a month with these easy money-saving hacks.
1. Carry Cash
You are less likely to buy impulsively if you pay in cash. Why? You have a visual representation of the money you are spending instead of a piece of plastic that isn't a good representation of the money you spent. This hack is the foundation of the envelope budgeting method.
2. Build Your Credit Score
Having a good credit score will help you get loans with lower interest rates. If you don't have credit, starting a credit-building card that you pay off at the end of every month will net you a higher score. In the long term, you'll save thousands on interest from car and home loans.
3. Purchase at the End of the Month
When making a large purchase like a car or an appliance, shop at the end of the month. Commissioned salespeople are much more likely to cut you a better deal when they need to meet their monthly quotas.
4. Clear Your Browser History
When shopping online, your browser history works against you. If you look at a product multiple times, websites can steadily increase the price slightly to gouge you for more money. Clear your history or shop in a private browser before making an online purchase.
You've probably heard that Tuesday afternoons are the best time to buy plane tickets. This guide on the best time to buy airline tickets will debunk that myth and give tips on when you can actually save money on airfare. The Best Time to Buy Plane Tickets
5. Brew Your Own Coffee
If you frequent the coffee shop, you likely spend hundreds of dollars a month on your morning caffeine. You can save a majority of this money by brewing your own beverages at home! Check out these cheap beverage recipes for coffeehouse-inspired creations!
6. Meatless Monday
One of the most expensive grocery elements is meat. Protein is the foundation of many meals but adds a hefty price to your grocery bill. Try cutting meat out of your meal plan at least one day a week for easy savings. Try these Meatless Monday dishes for inspiration!
7. Buy Generics
Speaking of your grocery bill, there's not an easier way to cut costs at the store than by buying generic brands of your favorite food products. Most of these items taste the same (or even better!), and you won't be paying for the brand recognition.
8. Lower Your Brightness
Did you know that the standard brightness settings on TVs and computer screens are made to make the picture-quality look better under the harsh, fluorescent store lights? When you're at home, you can lower the brightness and your electricity bill!
9. A Tall Drink of Water
Making water your beverage of choice can save you hundreds a month. You won't have to buy a single bottle or can from the store. If you don't like the way your tap water tastes, invest in an inexpensive filtering pitcher that you can keep in the fridge for your hydration needs.

Did you know drinking a glass of water before eating a meal will help with digestion and will give you a more accurate feeling of fullness?
10. Use a Clothesline
This hack will help you save in two ways. You will save on your energy bills by not using your dryer, and  you will increase the life of your clothes as they will be dried in a gentler manner.
11. Use Cashback Sites
When online shopping, cashback websites can save you a small amount of money on every purchase. These sites are ideal for shoppers who make many purchases online as a way to earn money on existing habits.
12. Carpool
An easy way to save on transportation costs is by carpooling. If you live near a co-worker or work near a friend, you can share rides to limit the wear on your vehicle and your gas expenses. Trade off days or weeks to drive and watch the savings roll in.
13. Make a List. . . and Check it Twice
Whenever you go shopping, make a list of what you plan or purchasing. While this may seem unnecessary, shoppers who carry a physical list are much less likely to spontaneously buy items that lead to overspending. Make a list. Buy what's on the list.
14. Visit the Library
Want a simple way to save on entertainment costs? Visit your local library! You are already paying taxes to help fund the institution, so you might as well use it. Libraries have more than just books; many carry movies, music, and audiobooks that you can check-out for FREE.
15. Don't Pay for Things You Can Do Yourself
Sure, food delivery is convenient, but is it worth it? When you get a meal delivered, you not only have to pay a delivery fee but you also have to tip the driver. Are those added costs worth the time it takes to drive down the street?

Other things you can do yourself include washing your car, doing your taxes, and cutting your hair (although it's probably best if you have your spouse or a friend help).
16. Cell Phone Data
If you are on a limited cell phone plan, you may know the ridiculous charges for going over your limits. Ensure that you track your data usage and switch to wifi whenever possible. If you consistently go over your limit, it might be worth it to switch to a more expensive, unlimited plan.
17. The 52 Week Savings Plan
If you want a simple way to increase your savings, try this 52-week plan that will put over $1,300 in your savings in just one year. The premise is simple; in the first week, save $1. Every week increase your savings by $1 so by week 52, you will be saving $52. At the end of the year, you will have saved $1,378. It's as simple as that.
18. Ask for Discounts
Many stores and restaurants offer senior, military, and student discounts for customers who ask for them. Always ask about any discounts that apply to you; you might be surprised at the savings you receive just by asking!
Learn how to be secure in your financial future with our new eBook, Budgeting Methods that Just Make Cents. This beginner guide to budgeting outlines a variety of budgeting methods that can help you curb your spending habits and reach your savings goals. Budgeting Methods that Just Make Cents Budgeting Methods that Just Make Cents
Do you use other money-saving hacks? Let us know how you save cash!
Free projects, giveaways, exclusive partner offers, and more straight to your inbox!
Tags / Related Topics
Your Recently Viewed Projects
Images from other crafters


Something worth saving?
SAVE all your favorite stuff
ADD personal notes
QUICKLY reference your stuff